A Beautiful Lawn All Summer Long
We are proud to offer Edmonton and area's best lawn maintenance program for commercial properties. We service all types of properties including condominium associations, seniors facilities, commercial buildings, retail properties, industrial properties, and many more.
Why choose Seasonal Solutions?
No Worries
With an extensive amount of detail in each service, we ensure all of our commercial properties are looked after throughout the summer so you can continue with your day-to-day operations or your residents can sit back and enjoy their property all summer long. 
Reputable & Experienced
We have been in business since 2012 and have seen every type of concern from property owners or management companies. We have taken all of this experience and have implemented it into our business to ensure our clients are happy with each and every service that we perform. 
Standard of Excellence
At Seasonal Solutions we are more than just a lawn maintenance company. We take care of each property as if it was our own and work diligently to uphold a standard of excellence within our industry.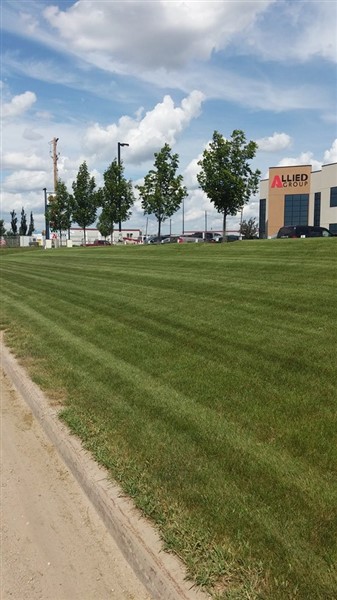 Our Lawn Maintenance Program
Commercial Spring Clean Up
Services performed in April/ May when the snow melts and it is dry enough:
Power raking of all lawn areas on property

Lawn sweeping of areas where snow has been piled and gravel is present in grass

Blow out of all beds and debris areas

Edge and turnover all tree wells and flower beds

First cut bagged

Litter/ garbage pick up performed prior to each visit

All debris removed from site and disposed of

All sidewalks and hard surfaces blown off of debris
Commercial Lawn Maintenance
Monthly Lawn Maintenance

May 1st to October 1st

Litter/ Garbage is always picked up and disposed of before any cutting occurs.

Cut and trim to maintain an average height of 2.0" to 3.0" *

All clippings will be bagged and disposed of by contractor or mulched when necessary to assist in moisture retention

Pulling or spraying of all weeds on concrete performed every visit or when necessary

Weeding and pruning of all flower beds on site performed every visit or when necessary within reason

Turning of all tree wells and flower beds (once per month or as necessary if applicable)

Edging performed on all straight edge concrete where grass meets when necessary
* Property to be serviced on a weekly basis (typically) unless weather does not permit or periods of low growth occur
Commercial Fall Clean Up
Services performed in the month of October before snow falls

Blow out of all beds, gardens and tree wells of leaves and debris

Last cut bagged and trimmed

Aerate of all lawn areas

All debris bagged and removed from site
Talk to us today!
If you are interested in our commercial lawn maintenance program or would like to inquire about our year round service packages please fill out the form below.